Montestigliano's restaurant brings you the most wonderful, mouth-watering flavours of Tuscan cuisine. Our priorities are seasonal, high-quality, homemade specialities.
Montestigliano's restaurant menu changes regularly and our brilliant, young chef Pierluigi will no doubt take you through a tasting experience that you will never forget.
For starters: on top of characteristic bruschetta and mixed platters of local cured meats, we always add some delicious seasonal dishes to the menu.
First courses: our strength lies in fresh homemade pastas, especially pici, ravioli and gnocchi.
Second courses: choose between a melt-in-the-mouth Florentine steak, a traditional tagliata, a warming beef stew or thinly sliced veal, among many others. Vegetarian options are of course always available.
Our desserts change regularly and the chef often comes up with an original, delicious surprise. Expect things like, classic Vin Santo and cantucci, tiramisu, panna cotta and much more. All made from scratch of course, that's a given for us!
We always have vegetarian, vegan, gluten and nut free options available. If you have an allergy, please do let us know, we would be more than happy to accomodate your needs.
And finally, enjoy!
See our recipe of the month below, try it at home and tag us on Instagram or Facebook:
Recipe of the month
Asparagus Carbonara
Did you know that the 6th of April was International Carbonara Day? A day dedicated to this exquisite pasta dish rooted in Italian traditions, which is not only greatly loved in Italy but all over the world. The Montestigliano restaurant would like to celebrate with you the arrival of spring.
And spring in Italy is asparagus season, so we have decided to share with you a particular version based on this wonderful seasonal vegetable that we all love.
A vegetarian Carbonara where the traditional "pig's cheek" is replaced by asparagus tips for a treat that is definitely lighter than traditional Carbonara yet still super indulgent and tasty, you'll be begging for seconds!
Carbonara is often made with longer pasta types, such as Spaghetti or Linguine, but this Carbonara with asparagus also goes wonderfully with shorter pasta types such as Penne or Rigatoni. You can also go for a gluten-free, wholewheat or mixed grain pasta, just let your creativity flow!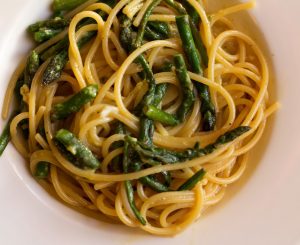 Serves 4
Ingredients
320g of Pasta
300g of Asparagus
4 Egg Yolks
90g of Pecorino Romano Cheese
1 clove of Garlic
2 spoonfuls of Extra Virgin Olive Oil (best if from Montestigliano)
Salt / Pepper (to taste)
How to prepare this mouthwatering Asparagus Carbonara
Grate the Pecorino cheese.
Remove the hard part of the asparagus stalks and boil the tips in salted water for about ten minutes.
Drain the asparagus and immerse in cold water immediately to maintain its colour and stop it cooking.
Whip the egg yolks in a bowl together with the Pecorino, adding a generous amount of pepper and a pinch of salt.
Bring the pasta water to a boil in a pot, when boiling add some salt and then the pasta.
While the pasta is cooking, toss the asparagus tips in a relatively large pan (big enough to hold all the pasta) with the garlic and a drizzle of olive oil on a medium heat.
Drain the pasta when still very "al dente" and add it to the asparagus in the pan on a low heat and mix it all together.
Remove the pan from the heat and add the whisked egg yolk mix, gently turning the pasta continuously. Don't overcook the eggs, they should remain creamy.
Serve the pasta immediately from the pan with a drizzle of fresh Montestigliano extra virgin olive oil, another generous amount of ground pepper and a final sprinkling of Pecorino.
Buon appetito!