The Montestigliano restaurant opens twice a week for its guests with the most wonderful, mouth-watering flavours of Tuscan cuisine. Our priorities are seasonal, high-quality, homemade specialities.
On Mondays we hold a traditional 4-course Tuscan dinner with a set menu, under the stars in our panoramic square located in the heart of the hamlet.
The menu varies, but is always seasonal, from characteristic bruschetta and mixed platters of local cured meats and cheeses, to homemade pastas such as Pici, Ravioli, Pappardelle and potato Gnocchi. Our main courses often highlight the quality of local meats in typical Tuscan dishes, but do not fret, there is always a vegetarian option available. Like all our other dishes, our desserts are of course all made from scratch, such as classic Tiramisu, Panna Cotta, Mille Foglie etc..
We always have vegetarian, vegan, gluten and nut free options available. If you have any allergies, please let us know, we would be more than happy to accomodate your needs.
Thursday is pizza night, when we heat up our wood-fired pizza oven to offer our guests a selection of delicious pizzas, served family style straight out of the oven. The evening often ends with a sweet pizza and a glass of homemade limoncello, followed by singing and dancing in our moonlit piazza at the centre of the hamlet.
We strive to give our guests an enjoyable and unforgettable experience here at Montestigliano! Both these events are a great opportunity to spend an evening in the company of new friends, to get tips and share holiday experiences with our other guests from all around the world.
See our recipe of the month below, try it at home and tag us on Instagram or Facebook:
Recipe of the month
Chestnut Crespelle
with seasonable vegetables
and cream of broccoli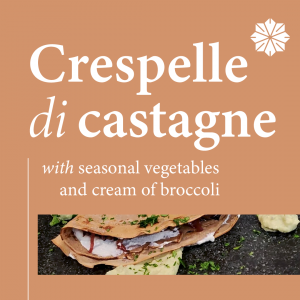 Ingredients for 4 Crespelle
– 100 g of organic chestnut flour
– 1 egg
– 160 ml of water
– a pinch of salt
– 1 spoon of Montestigliano Extra Virgin Olive Oil
– a knob of butter
Ingredients for the stuffing
– 1 head of radicchio
– 1 leek
– 1 tiny broccoli
– 1 garlic clove
– Montestigliano Extra Virgin Olive Oil oil to taste
– 200 g cow's milk ricotta
– milk and salt to taste
How to prepare these Crespelle di Castagne
Prepare the dough for the Crespelle by pouring the water into the chestnut flour. Keep mixing with a whisk to obtain a smooth and velvety cream. Then add a lightly beaten egg, some salt and olive oil, and mix. Let the dough rest in the fridge for at least 15 minutes.
Wash the vegetables and cut broccoli, eliminating the inner part and cutting the rest into small cubes. Boil them in hot water for some minutes, drain them and put them aside for a while.
Cut the leek into slices and the radicchio into strips, then let them fry lightly in a non-stick pan, with some olive oil. Once softened, add some salt and put aside for a while.
Sauté the broccoli with garlic in a non-stick pan, with some olive oil and salt. Then blend it with a blender to obtain a cream.
Start cooking the Crespelle in a non-stick pan, lightly greased with the butter. A spoonful at a time!
Mix the ricotta with some milk, just enough to obtain a dense cream. Add some salt and put aside for a while.
Garnish each Crespella with a layer of ricotta cream and with the cooked vegetables. Fold it "a portafoglio" and place it on a layer of broccoli cream.
Buon appetito!