Our on-site restaurant brings you the most wonderful, mouth-watering flavours of Tuscan cuisine. Our priorities are seasonal, high-quality, homemade specialities.
Our menu changes regularly and our brilliant, young chef Pierluigi will no doubt take you through a tasting experience that you will never forget.
For starters: on top of characteristic bruschetta and mixed platters of local cured meats, we always add some delicious seasonal dishes to the menu.
First courses: our strength lies in fresh homemade pastas, especially pici, ravioli and gnocchi.
Second courses: choose between a melt-in-the-mouth Florentine steak, a traditional tagliata, a warming beef stew or thinly sliced veal, among many others. Vegetarian options are of course always available.
Our desserts change regularly and the chef often comes up with an original, delicious surprise. Expect things like, classic Vin Santo and cantucci, tiramisu, panna cotta and much more. All made from scratch of course, that's a given for us!
We always have vegetarian, vegan, gluten and nut free options available. If you have an allergy, please do let us know, we would be more than happy to accomodate your needs.
And finally, enjoy!
See our recipe of the month below, try it at home and tag us on Instagram or Facebook:
Recipe of the month
Cantucci
(Tuscan Cantucci biscuits)
Serves: 10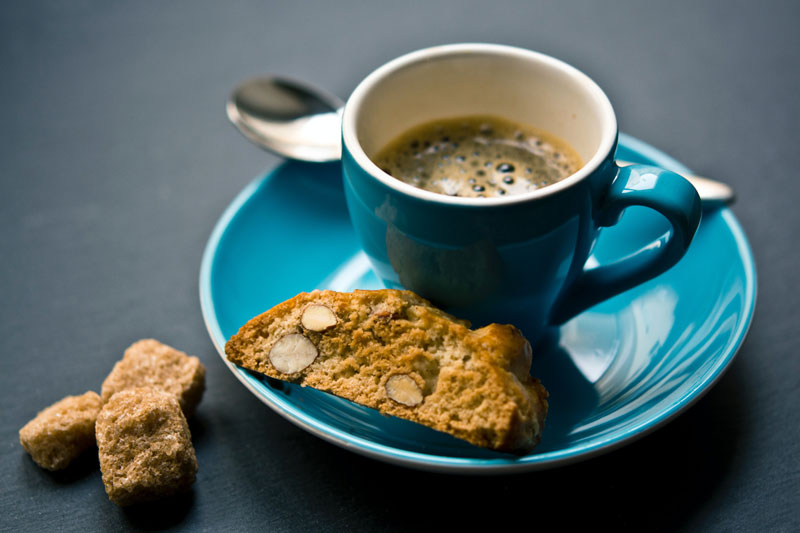 Preparation and cooking time:
Ingredients
400g almonds with skin
120g butter (at room temperature)
700g sugar
6 eggs
½?? yeast for baking
800g flour
Instructions
Toast the almonds in the oven at 170°C for 5 minutes and then let cool. Mix the butter, sugar, eggs and yeast until well combined. Then add the flour to make a smooth dough. Finally, mix the almonds into the dough and divide into small baguette shaped loaves. Bake these in the oven at 180°C for 25 minutes. Once baked, cut into roughly 2cm wide slices while still hot and …..place back in the over for another 5 minutes. Once they have baked through and are nicely coloured, leave to cool down before tucking in.