A very Italian Christmas
In Italy we say
"Natale con i tuoi, Pasqua con chi vuoi"
(kind of "Christmas with your family, Easter with whom you want").
This is one of the most cited proverbs in Italy.
It's basically a lie, as we usually spend both days with our families. But it's part of a set of traditions that regulate Italian Christmas celebrations since centuries.
Some of them directly come from a rural culture, others are of a religious nature, and others reflect the needs of a poor farming world disguised as religious commands.
We all are constantly complaining about these strict rules, but we're actually so fond of them that we're glad to share some with you.
As usual, food plays a central part.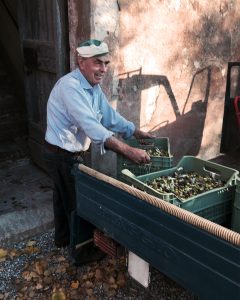 Meanwhile, the new Montestigliano EVO Oil Harvest 2022 is ready!
Here's a picture of the iconic Dino collecting olives – have you ever had the chance to meet him?
Anyway, there are two important family moments in Italian Christmas tradition: the Christmas Eve dinner and the Christmas lunch.
Menus vary from region to region, but what is guaranteed is that the one for the Christmas Eve is a fish menu, while the Christmas lunch is all about meat.

On the occasion of the drop of our first Montestigliano Red Wine, we thought it could be nice to invite you to follow the Italian Christmas tradition, like we could celebrate together eating the same Tuscan food paired with our best Montestigliano wine.
After all, our guests are all part of our Montestigliano family!
Please share with us the results!
You can send us an email to info@montestigliano.it
or write us on Facebook or Instagram.
Hope to hear from you soon!
Tuscany is a magical landscape where everything around is gentle, ancient and new.
– Curzio Malaparte